Hi Ladies!
I just wanted to show you what's been arriving over at my place in the last 30 days! Mostly all of this was purchased online or at my local Rexall, also included are some polishes I won. Let's get to it! All pictures can be clicked for a large close up.
We also have OPI Just Spotted the Lizard, which I would like to wear with the Ardene ACO black crackle polish I got recently. Looks like a great combo on my swatch wheel.
Almay Smart Shade Perfect & Correct primer, I mostly got this because it looked cool and I liked the tester in the store. Doesn't really seem to do much, and if you use too much, you will have little left over green pieces on your skin that don't absorb. Not impressed, good prep for powder as a light moisturizer for the summer. I wouldn't put it under or over moisturizer, you will probably feel to dewy or greasy. That's about it, and there's no SPF, So why bother? $16.00
The Maybelline Dream Fresh BB Cream is really nice, it makes a great foundation if you don't have any acne or major skin imperfections, which I don't. I like to top it off with powder for a great, smooth look. I definitely recommend this. Plus, it has 30 SPF. $9.99 30ml
The polishes on top are Buffy the Violet Slayer by Wet n' Wild, and Revlon Royal. Haven't worn either yet but I like em! I hope the formula on this Revlon doesn't suck. I have stopped buying Revlon polishes because of the formula, but I loved this color, and how it is a good dupe for RBL IBK:2012.
Then we have Essie Picture Perfect and Aruba Blue. I have wanted AB forever so I am so glad to finally have it in my collection.
Wow, I didn't mean to make this post so hefty! Click through the break to see closer pictures of the rest of the items, including 5 Utopia's Polishes (Gumdrop!) and what I won in a giveaway.
previous post
. You can check out the rest of the sale
here
if you are interested.
The next row we have Essie- Ballet Slippers, and then my
Utopia's Polishes
. Starting with Grapevine, then we have the very popular Gumdrops (haven't even worn it yet and I've had it a month. Shame haha) Then we have Bubblegum, Indian Summer and Pastels. I would totally recommend both of these, they look so gorgeous! Utopia's Polish released a new collection called Color Theory, and if you like polishes with matte and metallic glitter in the same general color, you will be a big fan.
Just a taste: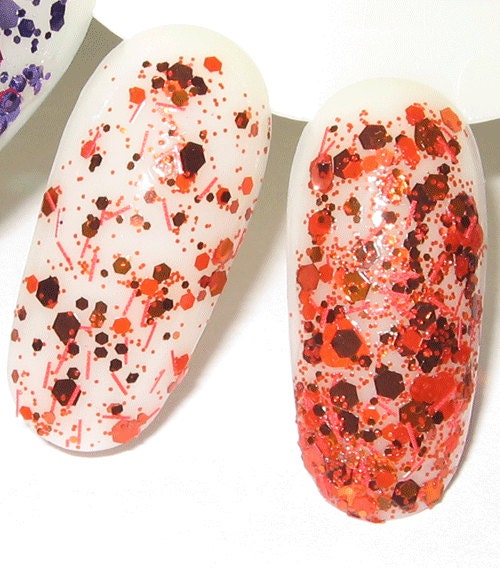 Orange Slice
Do you want this? Because I do!
Next row is Sally Hansen Gem Crush Cha-Ching! I bought this because it's christmassy and I was going to use it a lot in my Xmas in July contest entry, but I only used it over red and under my Xmas tree nail. I think I'll get a lot of use out of it though, very pretty.
Then we have all my July Maven polishes (I usually get the Bombshell box) we have Yumi, Kate (love this pearly white, it was the main reason I stuck with my style because I needed a pearly white) O Canada, America the Beautiful and Daphne, which were my 2 add-ons. I am wearing a lovely dotted flower manicure over Daphne, hopefully I will show you that tomorrow. So fresh! I won Nostalgic laquer Envy and Gluttony from Scott @
One Gents Ten
. They both look really pretty, haven't even swatched em on my nail wheel yet.
Lastly is OPI Designer De Better, this is a great silver foil with rose gold sparkles. You can see it in my
4th of July
mani.
So that's all for now, I missed out on the left bottom corner but I'm done with typing for now, so if you have any questions, leave a comment! What is your favorite thing/things I got? let me know in the comments. Stay tuned, I am expecting indie polishes from 365 days of polish, and The Hungry Asian next week.
Happy nails!☺
♥ ❤ ❥ , Samantha