Hello Ladies!
Wow, I can't belive I haven't posted for 10 day, bad blogger, bad!
So today I have some indie polishes I got recently to show you. I will upload a post about my 15 frankens I showed off on my
Facebook page
soon as well hopefully. You can see them below. Omg, right?!
Below is the glitter I got with my order from
Franken Polish Supply
on Etsy . I ordered the Franken Polish Kit, it has 10 bottles full of clear glitter suspension with a bag of lots of stainless steel balls and a bunch of glitter.
Some of the bags were a bit skinny in the glitter department (see the square bags) but the seller, Holly was really great. I ordered this kit for the suspension base for my Glitter Giveaway Floam polish dupe. I ordered a bunch of cool glitters from Youmix and just got them today so I'm excited to mix them up! I got the fire colors mix, rainbow mix, holo squares, pastel matte mix and the USA glitter mix. I don't know what it is, I just love USA themed glitters/ glitter polishes! Haha.
Here is my order from
Ador Beauty Supplies on Etsy
:
Olivia from Ador Beauty Supplies also tossed in a baggie of hearts glitter (not pictured) so that was nice of her! She is really friendly and I highly reccomend everything I got. The powder in the top left corner is a green concealing powder and it's really great too.
Here is my order from
Daring Digits
on Etsy:
Picture so you can see the names.
Here's all of them together, the little bottle was a bonus and it is a small gold circle glitter with holo gold bars. It's itsy bitsy haha! Cute. I got all of these during Ashley's 20% off sale so they were $5.80 each, not bad! These are the neatest bottles ever too, they are small and delicate looking , they look bigger in pics than they actually are. I think I must have been drunk when I bought these because they are okay but just kinda average looking combos haha. For example, the red one has white small circle glitter and red squares. That's all. Now that I am buying glitter mostly instead of indies, it's (cheaper) not something I would have picked up today. Ashley has some new polishes up that are really great like this one: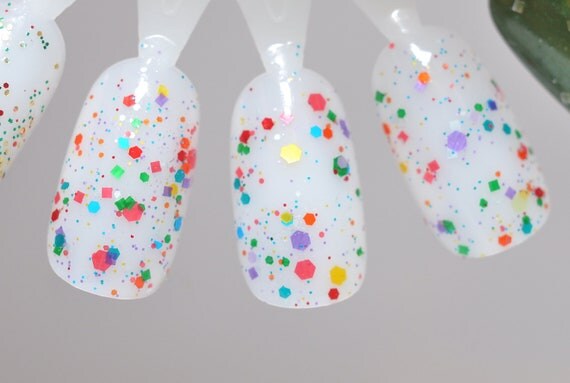 And I interupt this haul post with a pic of some frankens I made like last month:
Pretty!
Carrying on, here's what I got from the Pretty&Polished Pre-order:
Don't you love the 2 new labels? They look much better. I got this so many days ago that I already received the baggie of pink glitter from Chelsea that wasn't in this Punk'd up Betty (or anyone else's in the pre order.) There was so much glitter I mixed up a 6ml bottle of what I call Cotton Candy (pink, blue, yellow matte glitters) No picture yet, but it's so hot! Then I added some in the Punk'd up Betty and I still have some left. Yay, glitter! (Drools.)
Here's my order from Dawn at
Liquid Imagination Nail Enamel on Etsy.
These are all cute as hell. The one in the middle, Superfly has taco glitter, but other than that everything is gorgeous. I wore punk rock girl and thought it was really neat, the base looks more like a case of bleeding pink matte glitter but I don't know that for sure, although I have mixed a few nail polishes in my day haha. It's still really nice.
I got this polish from Kristi at
Happy Hands on Etsy
and it is pretty much the bomb diggity. I love this. I saw it and was like Mine!Mine!MINE NOBODY TOUCH IT! Hahaha. Coincidentally it arrived in my mail box 2 weeks later. It's called Flowers on the Highway (awesome right?) and is currently in stock.
Here's a wheel of almost all the polishes mentioned above. Here's another franken for you:
Pretty! Which of all the polishes above is your favorite? Leave a comment letting me know or just giving me shit for slacking is okay too haha!
Happy nails!☺
♥ ❤ ❥ ,
Samantha